Welcome to the website of UofT's first annual Sustainable Energy Fair.
SEFair 1.0 was held on April 1, 2004 and was a great success! Thanks to all of our participants and sponsors, and to all the people who came out to see the fair. Move the mouse over the items below to find out more about this year's fair...
The fair will provide a forum to promote awareness of sustainable energy use and showcase sustainable energy related initiatives. Displays will be set up by researchers, student groups and companies in the sustainable energy field. This is intended to be a fun and informal event. There will be free veggie burgers, interactive displays, demonstrations, and activities such as sustainable energy-themed games, with prizes such as CFL bulbs and fair trade coffee and chocolate. Come on out, join the fun and learn more about the future of energy!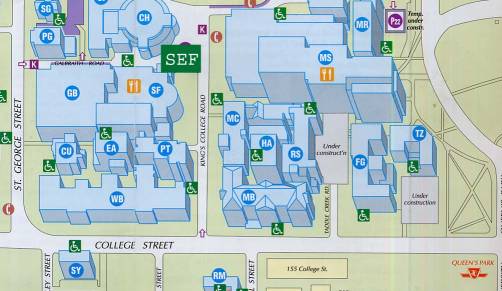 SEFair will be held along King's College Road, at the University of Toronto (St. George). It's short walk west from Queen's Park TTC Station.
Got a question or comment? Interested in participating in SEFair 2.0? Click to contact us at SEFair@planet-save.com
SEFair is officially co-hosted by the Energy Sustainability Community(ESC), Students of Science for Peace, and Engineers Without Borders. As such, the organizing committee reflects the diversity of people within these groups with a wide range of disciplines including Engineering, Environmental Studies, Business and Arts. Click to find out who we are...
Creating a sustainable future requires the cooperation of governments, the private sector, universities and grassroots organizations. A large number of researchers, companies and student groups will be present to showcase their work, raise awareness and make contact with others in the field. Click to find out who will be there...
Click here to check out some images from SEFair 1.0...
Click here to visit the website for 2005's SEF 2.0...
© Copyright 2004 SEFair Organizing Committee/Eric Wu. This website is best viewed in Mozilla 1.5+/IE 6+/Netscape 7+